Dental Implants – Arundel, ME
The Longest Lasting Tooth Replacement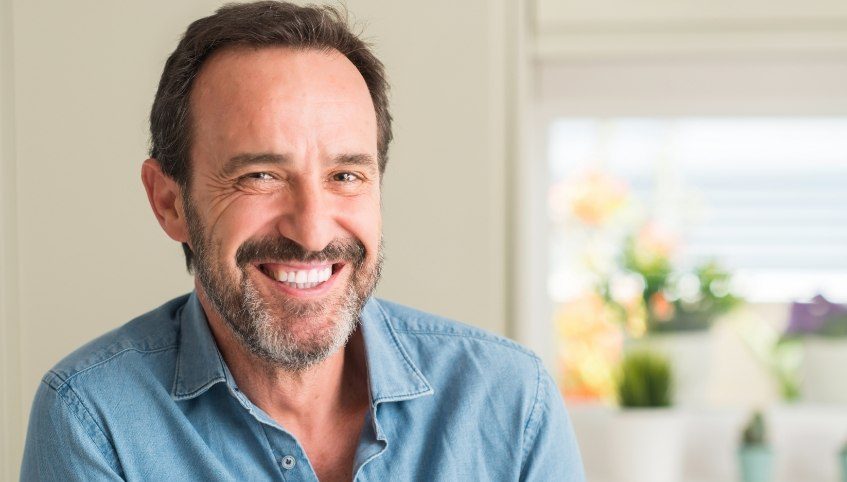 Imagine living the rest of your life with a set of teeth that looks great and feels comfortable. For anyone who suffers from tooth loss, this reality might not seem possible, but it is with dental implants. At Arundel Family Dentistry, we can use this state-of-the-art treatment to give your smile a second chance and safeguard your oral health and appearance for decades to come. Call us today to schedule your consultation for rebuilding your smile with dental implants in Arundel!
Why Choose Arundel Family Dentistry for Dental Implants?
Dental Team That Prioritizes Patient Comfort & Satisfaction
CT Cone Beam Scanner for Accurate Treatment Planning
Dental Insurance Welcomed & Maximized
What Are Dental Implants?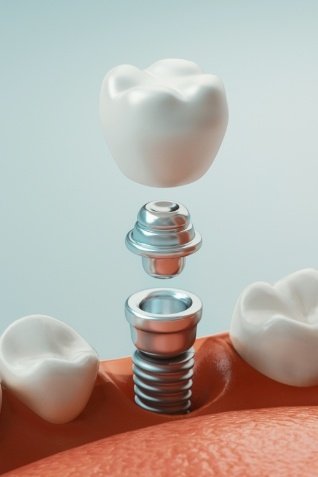 If you want a tooth replacement solution that lasts 30+ years, allows you to eat your favorite foods, and helps to provide continuous stimulation to your jawbone to prevent facial sagging, dental implants are the way to go. Made of titanium, these prosthetics work like natural teeth and are designed to restore them from the roots to the crowns. Placed into the jawbone, they fuse with the surrounding tissues, creating a firm foundation for crowns, bridges, or dentures.
The 4-Step Dental Implant Process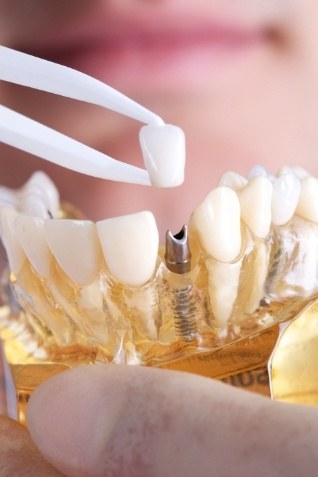 The dental implant process takes place over the course of several months, but the time and effort are well worth it! Dr. Jung and our team are able to handle the entire procedure right here in our office, so you will not have to worry about dealing with referrals to other practices. We will strive to make every stage of your treatment as comfortable and stress-free as possible. Just what is involved in replacing your teeth? There are four basic steps that every dental implant patient must go through: the initial consultation, dental implant surgery, osseointegration, and restoration.
<>
Initial Dental Implant Consultation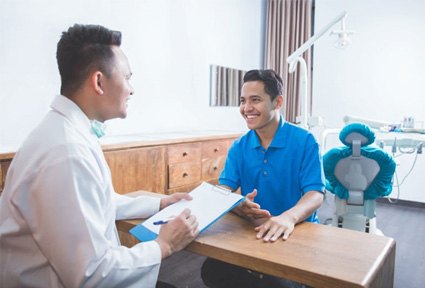 During your consultation, Dr. Jung will examine your mouth. We may also use our CBCT machine to evaluate the health of your jawbone to ensure that it is strong enough and large enough to support dental implants. Next, we will work out the details of your tooth replacement journey. Feel free to ask questions — we want all of our patients to feel confident about their treatment plan!
Some patients are able to receive implants soon after their consultation. Others, though, must get a bone graft, gum disease therapy, or tooth extractions before they can move forward.
Dental Implant Surgery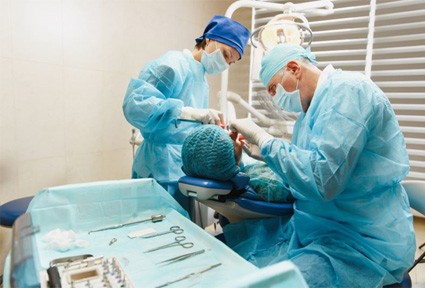 We perform the dental implant placement surgery right here in our office, so you will get to enjoy the top-quality care provided by our team throughout your entire tooth replacement process.
The surgery itself is pretty straightforward. We numb your mouth and may administer sedation. Once you are comfortable, we will make incisions in your gums and insert the implants at precise, pre-planned positions. We close the incisions so you can go home and start the healing process. Most patients are feeling well enough to go back to work within a few days of their surgery.
Dental Implant Osseointegration & Abutment Placement
Osseointegration is the biological process that allows dental implants to form a strong bond with the surrounding bone tissue. It usually takes at least a few months. For most of that time, your mouth will feel completely normal.
After adequate osseointegration has occurred, you may undergo a second minor surgery. Your implants will be exposed, and we will place healing caps on them. Later, you will receive abutments (small connector pieces that will keep your new teeth in place.) Some patients receive abutments during their initial surgery, so they can avoid this second procedure.
Delivery of Dental Implant Restorations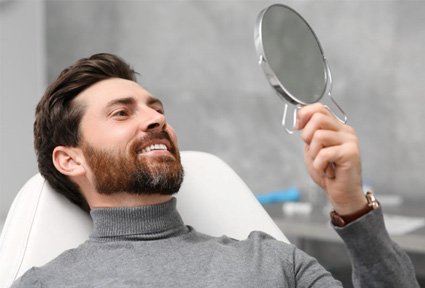 To design your restoration (crown, bridge, or denture), we will take detailed impressions of your mouth. Those impressions will be sent to the laboratory that will fabricate your new teeth. Once your restoration is ready, you will come back to our office so we can make sure that it fits well, looks good, and lives up to our rigorous quality standards. We will give you some tips on how to care for your new smile before we send you home so you can start enjoying all the benefits of dental implants.
Benefits of Dental Implants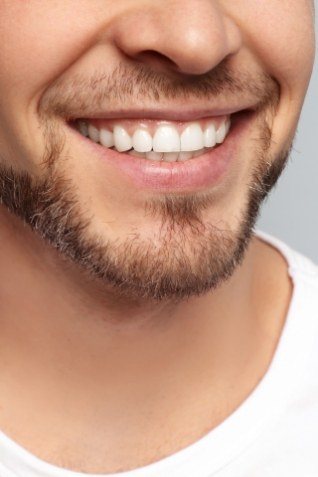 Truthfully, dental implants are now quite popular as tooth replacements. It's to the point that U.S. dentists place roughly 500,000 of them yearly! As for the reason, implants have a unique restoration method. Since these prosthetics are set in the jaw, they gradually fuse with your jawbone. They thus provide various benefits that dentures and dental bridges can't match! In other words, then, you can trust implants to improve your quality of life for years.
Day-to-Day Benefits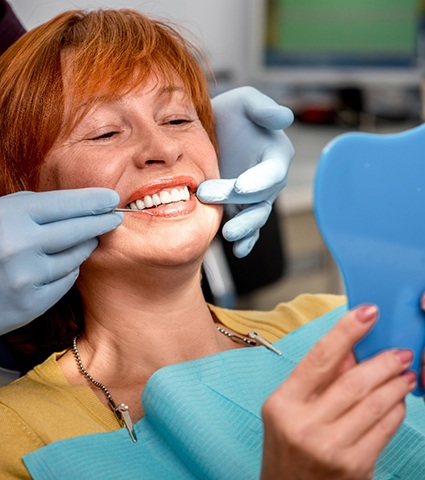 The day-to-day implant benefits tend to be the most obvious ones. In particular, they include the following:
Lifelike Results – As they're capped with dental crowns, implants look beautiful and blend seamlessly with their surroundings. You won't have to worry about them "standing out" to your friends or family.
Greater Confidence – Implants fill the gaps in your smile, boosting your confidence as a result. From there, you're more likely to enjoy social situations with your peers.
Stronger Chewing – Since implants fuse with your jaw, they restore much of your bite force. That means they'll help you eat your favorite tough foods again.
Easy Maintenance – Implants don't need special upkeep compared to dentures or bridges. You can simply clean them with twice-daily brushing and once-daily flossing. If you also throw in mouth rinses, you'll be good to go!
Health Benefits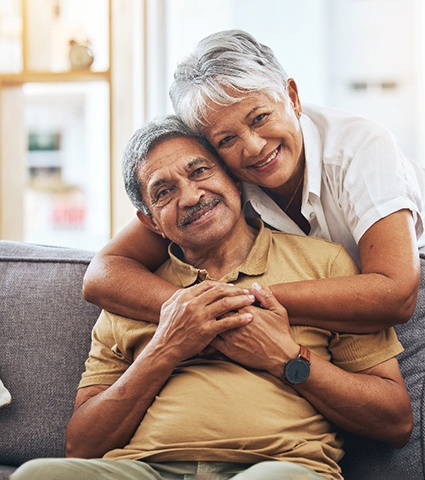 The everyday upsides are nice, but implants do have other kinds. Notable among them are those related to health. These are:
Cleaner Teeth – Because implants remove germ-filled tooth gaps, they make your mouth cleaner. Naturally, this effect leads to a lower risk of oral issues.
A Stronger Jaw – Left unchecked, tooth loss causes your jaw to lose bone tissue. This process can then trigger a facial collapse. However, implants prevent this outcome by stimulating your jawbone.
No Sensitivity – Unlike dentures or bridges, implants don't rub against your other teeth or gum tissues. Consequently, they leave your mouth much less irritated.
Long-term Benefits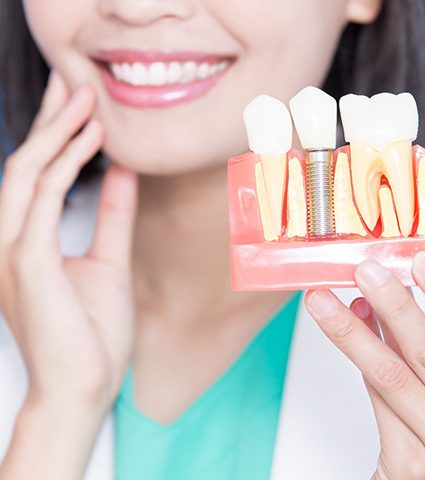 Finally, implants have long-term benefits that truly set them apart as tooth replacements. The most common of these are:
High Success Rate – Once properly placed, implants hardly ever fail. In fact, studies show that their ten-year success rate is over 95%!
Long-Lasting Results – On average, a dental implant lasts anywhere from 15 to 20 years. Well-maintained ones can reach a lifespan of over 30 years. In both cases, the numbers show that implants could last you a lifetime.
Cost-Effectiveness – So long as you look after them, implants will save you money. Their long lifespans mean they don't tend to need many replacement or repair visits. Meanwhile, dentures and bridges usually require expensive follow-up care.
Who Dental Implants Can Help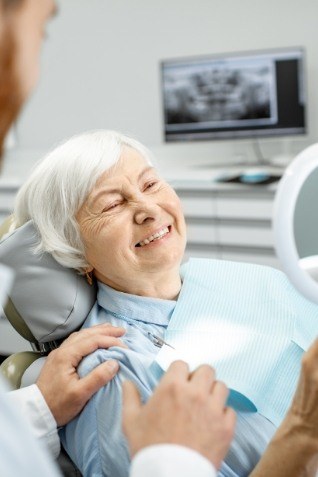 You might assume that dental implants cannot help someone like you, but the truth is that most individuals can move forward with these permanent prosthetics. Even if your jawbone lacks the necessary density, or you are living with diabetes, we can formulate a plan that will address these issues and help you to embrace a brighter future with dental implants.
Missing One Tooth
Even one missing tooth can be enough to cause difficulty eating and speaking. But with a single titanium implant post, we can fill in the gap and restore the complete tooth with a customized dental crown that looks just like your existing teeth.
Missing Multiple Teeth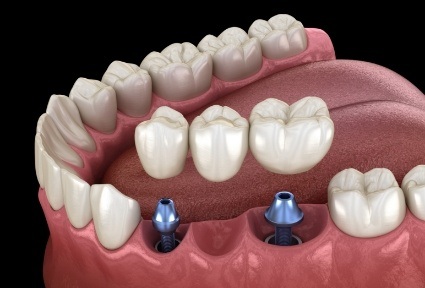 If you are missing two or more teeth, we can position two dental implants before attaching a custom-made dental bridge. Unlike its traditional counterpart, an implant bridge does not require altering healthy teeth, plus it offers better stability and longevity.
Missing All of Your Teeth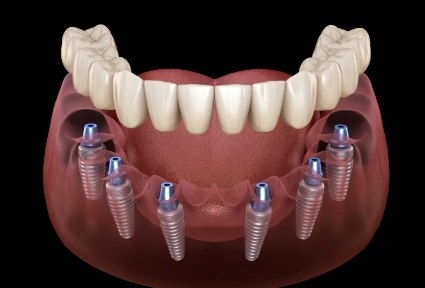 Implant dentures are an ideal alternative to traditional dentures, as they allow for 4-6 posts to provide unmatched security for the new teeth. Restoring your ability to eat with ease and speak clearly, you will feel more confident and comfortable with your new smile.
Understanding the Cost of Dental Implants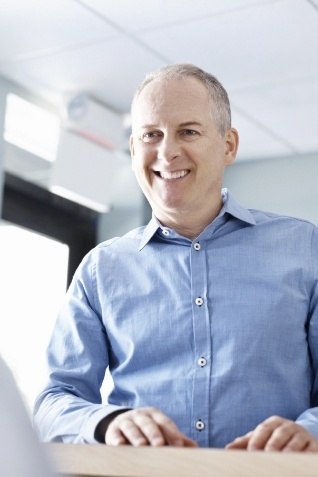 This advanced, complex process of tooth replacement requires a greater, initial investment compared to more traditional methods, but it is not the same price for everyone. There are various factors that our team must consider before providing any kind of estimate for the cost of dental implants. During your initial consultation, we will go over how much you can expect to pay for your implants so that you experience no surprises along the way. We'll work with your dental insurance company to maximize any benefits and help you save when it comes to any out-of-pocket expenses.